ISO 1000 | f/1.4 | ss 1/40 | 50mm
Happy Birthday Breena!
30 candles provides enough light to shoot in Aperture Priority Mode with
spot metering
. It blows out the candles, but gets her face perfectly exposed! Birthday cakes go quickly, so have your settings ready to go before the moment if you can. Aperture Priority gives you that little added assurance your exposure will be close. The silhouette on the right of the frame is a little family friend. I think Breena will love knowing he shared this special day with her.
This is also my Simple Things photo for this week.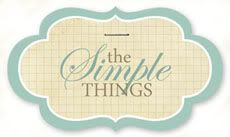 If you've not found Rebecca Cooper's blog, I recommend you stop by her Simple Things Challenge each week. She and her photos are lovely. And really, can't we all use more lovely in our lives?